From classic to the contemporary we can design and install a resin bound driveway that perfectly suits your home, lifestyle, taste and pocket.
We can offer you a wide range of colours and patterns and finishing touches to choose from, all of which will be planned and installed by our fully trained, expert and experienced team. You'll find them fast, tidy, conscientious and working in ways that are convenient to you and your family.
Long lasting, practical and value adding, our resin driveways can bring real kerb appeal to your home and a touch of cost effective luxury to the way it looks.
We also construct high quality patios with a resin bound surface, with varying degrees of complexity, including split levels
Block Paving Poole, Tarmac Driveways Poole, Resin Driveways Poole, Patios Poole, Paving Poole, Landscaping Poole, Driveways Poole, Block Paving Poole Dorset
WHAT'S THE DIFFERENCE BETWEEN RESIN BOUND & RESIN BOND?
At Total Driveways we offer all types of resin driveway to customers in Dorset, although we highly recommend resin bound for best results and the longest lasting surface.
The two main methods for using resin in a driveway have similar names, but there are some important differences:
This method involves the resin and aggregate being mixed prior to application. The mixture is then spread evenly across the chosen surface, drying to a very solid and level finish. A big advantage of this technique is that the driveway remains completely water permeable. Most of our Poole clients choose this option for their new driveways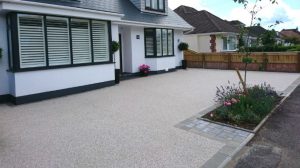 This technique involves applying plain resin over the driveway, then a subsequent layer of loose stone is pressed into the sticky top surface. This is a quicker and cheaper process but can often lead to loose chippings and an uneven finish. There is an added disadvantage that the drive will no longer be permeable and water may pool on the surface.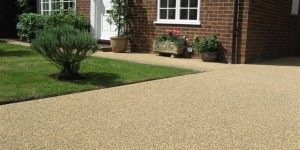 Why Resin Bound is a Great Choice for your Driveway, Path or Patio
Once laid, the resin gravel surface provides a smooth, strong, durable finish, which is great for regular use by cars, bikes other vehicles and people. These types of modern drives are becoming more popular, since they offer ease of use, a stable surface area and, of course, a beautiful finish for any Berkshire home. The decorative gravel and resin mix is also easy to maintain, requiring just a regular clean of the surface to keep it in good condition.
You can choose from a range of different aggregate colours, from bronzes and golds to greys and whites. Mixed aggregates are possible for a unique style, giving you full customisation over the final outcome of your driveway or decorative surface area.
7 DAY PRICE PROMISE
We strive for excellence and 110% customer satisfaction - we are constantly reviewing our working practices to employ new products and new methods of application.
We also insist on individual specialists. We do all the work required from start to finish. We don't use sub-contractors, simply because we set very high standards of workmanship.
If within 7 days of placing your order, you find a lower price for products designed, made and installed to the same specifications and with the same guarantees, we will refund the difference.
TO SPEAK TO YOUR LOCAL POOLE DRIVEWAY TEAM
CALL: 01202 065282

WHY CHOOSE US?
A driveway can be more than somewhere to park your car.
A beautiful drive can be a feature in its own right and add value to your property. Our cost effective driveways can bring real kerb appeal to your home and a touch of luxury.
Let our fully trained, expert and experienced team design and install a driveway that perfectly suits your home, lifestyle, taste and pocket.
Free, No obligation estimates
All work is guaranteed
Local company
Cooling off period available
References available
Bespoke solutions for each job
WHICH? TRUSTED TRADERS
CERTIFICATE OF DISTINCTION
Total Driveways received this award that shows we are one of the best performing Trusted
Traders in our area.